5 Servo Motor Flow Multi-packaging Machine RD-BM-708S (Down Film Type)
5 Servo Motor Flow Multi-packaging Machine RD-BM-708S (Down Film Type)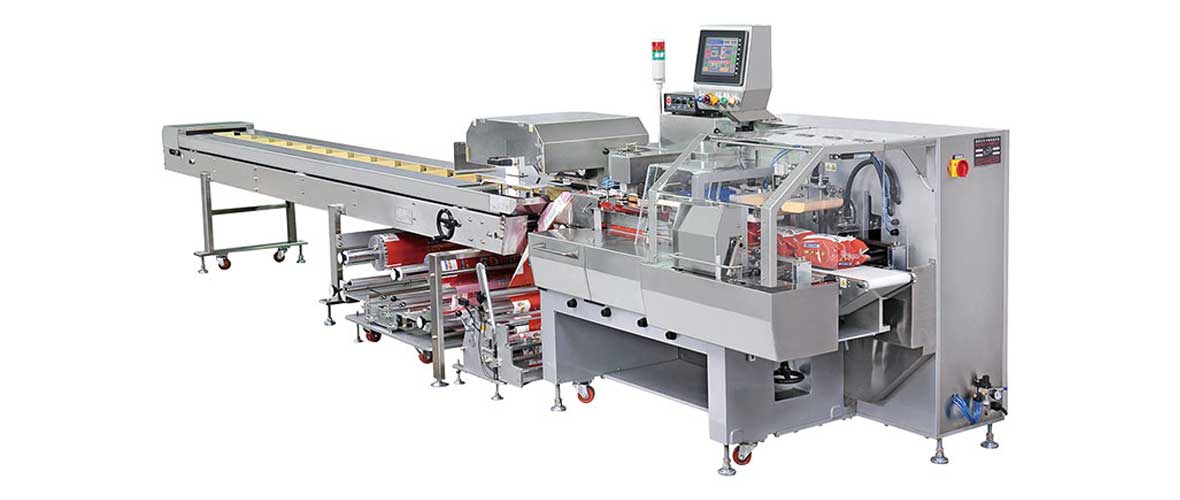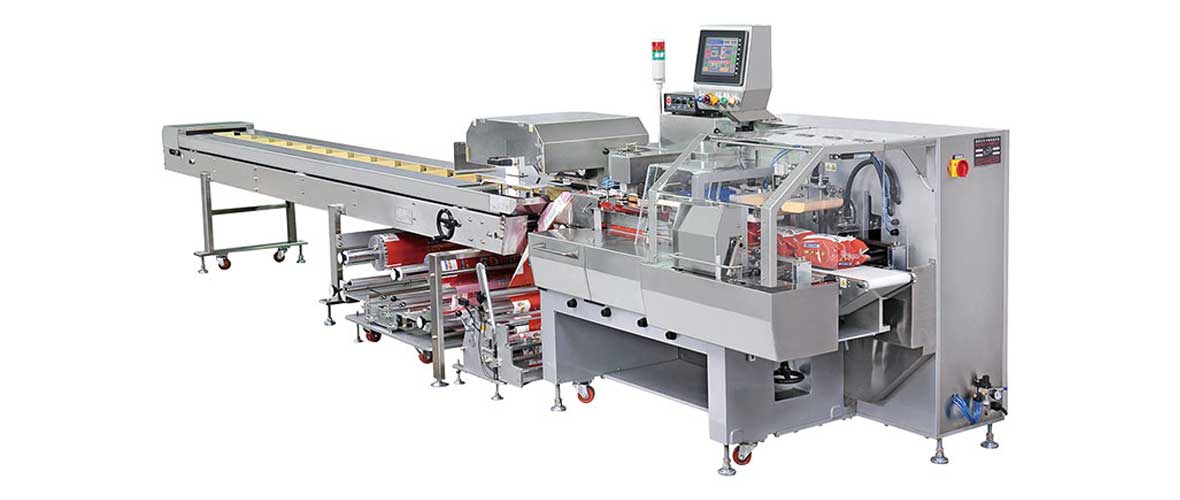 DESCRIPTION

1. Introduction of Flow Packaging Machine RD-BM-708S

This flow packaging machine is a down film type multi packaging machine, equipped with a 10.4-inch color touch screen, which is convenient for users to operate the machine. It is also capable of saving up to 100 product recipes for any complex production.

2. Structural Features of Flow Packaging Machine RD-BM-708S

(1) Strong Machine Body: Cantilever machine frame + integrated electrical cabinet.

(2) Sanitary Standard: SUS304 machine housing to meet highly regulated food grade standards.

(3) Full-cover safety cover, equipped with a safety switch (alarm stop), to avoid the occurrence of accidents.

(4) Compact and Small: No more than 2-meter long.

(5) Smart & High Tech: Servo motor driven and computer controlled.

(6) Easy Maintenance: Less mechanical parts and lower operating noises.

3. Main Features and Advantages

(1) Compact and Small: Occupy less space, easy to move.

(2) HMI Touch screen: 10.4-inch color touch screen, which is convenient for users to operate the multi packaging machine.

(3) 100 Recipes: Up to 100 product recipes can be saved, suitable for any complex production.

(4) Belt Feeding: It is convenient for users to carry out manual product loading and belt cleaning.

(5) Smart Belt Design: Patent fast dismantles belt design, easy to remove the belt without any tools.

(6) No Product No Pack Function: With this function, no empty bag and no waste will be produced.

(7) M.I.S. Function (Misplaced Item Skip): Efficiently reduce waste and avoid wrong cutting.

(8) A.F.C. (Auto Film Catcher): At the request of AFC to reduce operational downtime.

(9) Gussets and fold lines make the packaging more three-dimensional and beautiful.

(10) Additional functions are practical and the optional devices are diversified.

4. Flow Packaging Machine Function and Device

(1) PID electronic temperature control x 4.

(2) Detect printing electric eye point function SICK electric eye x 1.

(3) Stop without paper / Stand by without material (to prevent empty package) / Stop with material clamping / Stop with abnormal temperature.

(4) Miscutting protection: Displacement detection (if the packing material is in the wrong position, the cutter will automatically jump and cut without stopping).

5. Optional Device of the Packaging Equipment

(1) Nitrogen device.

(2) Printing device.

(3) Wide and narrow knife holder (imitation handmade bag effect).

(4) Alcohol spray device.

(5) Adjustable bag former.

(6) Adjustable conveyor width handle.

(7) Automatic bag noodle feeding systems.

(8) SUS304 standard applied machine shell.

(9) No product no pack function.

(10) M.I.S. (Misplaced Item Skip) function.

(11) HMI 10.4" touch screen.

(12) Eye-mark function.

(13) A.F.C. (Auto Film Catcher).

(14) Product collector or stacker.

(15) Date coder.

(16) Gusset device.

(17) Automatic labeling device.

(18) Euro hole punch.

6. Packing Machine Details Introduction

A. Spool Holder / Film Real Support About Packaging Machine

The spool holder is self-centering and allows for easy film spool replacement.

Automatic double spool-holders are available as an add-on option if a label applicator is not installed.

Maximum packaging film width: 500mm.

The packaging film is automatically centered.

B. Seal Wheel About Packaging Machine

The paper pulling wheel is individually controlled by the servo, the film pulling is smoother, and the bag forming effect is more perfect.

Preheating device (better sealing and faster speed).

Longitudinal sealing wheel.

Pattern: Reticulated.

Width: 10mm.

C. Head-cutter About Packaging Machine

The head-cutter imported from Taiwan.

Cutting knife type: tooth knife / flat cut easy mouth.

Cutter width: 350 mm.

Pattern: horizontal pattern Width: 8 mm.

Advantage of the packaging machine head-cutter:

It is more advantageous for products with higher packaging height.

Reciprocating feeding and unloading belt connection, no need for semicircle or chain net connection device, more stable transportation.

The servo independently controls the cutter; different from the upper and lower cutters of the rotating knife, there must be some contact, the cutter has a longer service life, and there is no need to adjust the cutter pressure from time to time.

Mechanical gusset, easy to disassemble and high accuracy.

D. Control Panel

(1) Yaskawa PLC.

(2) Japan Yaskawa Servo Drive Control System.

(3) Yaskawa Servo Motor x 4.

Delivery x 1.

Film feeding x 1.

Pull paper x 1.

Cutter x 1.

E. In-feed Conveyor

Use food-grade belt.

Not limited by the length of the packaged product.

Easy to connect to the production line and with the function of sorting line.

Belt quick release design, easy to clean and maintain.

F. Packaing Bag Former

Length min. 180mm, Width max. 300mm, Height: Max.120mm.

G. HMI Touch Screen

Use 10.4-inch color touch screen to facilitate operation.

Equipment operation prompt, abnormal message prompt, etc.

Can store 100 groups of packaging products management.

7. Packaging Style

Pillow pack center sealed, on request with or without gusset device.

On request with perforating, labeling, print coding, eye-mark locating, coupon inserting and tear strip, easy-tear notches, and other auto feeding systems.

8.

Application of Flow Packaging Machine RD-BM-708S

Baking products, such as buns, bread, and cakes.

Frozen foods, like meat patty, burgers, and chicken fillets.

Higher packaging products have more advantages.

1x3 bag noodle multi-pack.

1x4 bag noodle multi-pack.

1x6 bag noodle multi-pack.

2x5 bag noodle multi-pack.

Other types of group pack, family pack or secondary pack.
PARAMETERS

Technical Specifications

No.

Items

Model

5 Servo Motor Flow Multi-packaging Machine RD-BM-708S (Down Film Type)

1

Bag former(mm)

(L)180-500mm(W)Max.300mm(H)Max 120mm

2

Bag length

Small outer diameter 80-400mm; Large outer diameter 100-400mm

3

Film Width

Max. 670mm

4

Packing Speed

40-60bags/minute

5

Packing material

OPP or CPP / OPP+CPP/PET+CPP/PET+LLDPE/PET+VMCPP

6

Machine size

L6000*W1500*H1600mm

7

Total Power

3.5KW

8

Voltage

Single phase 220V 50/60HZ Air pressure:0.6MPA

9

Overall Weight

1500KG

Main Electrical Components

| | | | |
| --- | --- | --- | --- |
| No. | Name | Spec | Brand |
| 1 | PLC controller | | Yasukawa-Japan |
| 2 | Encoder | | OMRON-Japan |
| 3 | HIMI touch screen | 7.2inch | Fuji-Japan |
| 4 | Sealing servo controller | 750W | Yasukawa-Japan |
| 5 | Film servo controller | 400W | Yasukawa-Japan |
| 6 | Servo motor | 750W/400W | Yasukawa-Japan |
| 7 | Frequency inverter | | Fuji-Japan |
| 8 | Reduction box | | Yasukawa-Japan |
| 9 | Temperature meter | | OMRON-Japan |
DRAWING
FAQ

Q: How many samll bag can the RD-BM-708S packaging machine can handle?

A: Depends on the small bag size and numbers. But normally the packaging equipment RD-BM-708S can package the group pack, like 1x3 bag noodle multi-pack, 1x4 bag noodle multi-pack, 1x6 bag noodle multi-pack, 2x5 bag noodle multi-pack.

Q: Do you have any idea to make the package looks more beatifuly and luxury?

A: Off course yes. Adding the folding line device. 4 lines or 6 lines for the package are optional.

Q: Can we add one worker operation platform?

A: Yes. It's optional.

Q: Infeed comveyor type is belt or chain ?

A: The packaging machine RD-BM-708S has type infeed conveyor. One is belt type infeed conveyor, it including 2 blets. One is controlled by servo motor. Another one is pusher type, which easier to put product.
VIDEO
CONTACT US

Foshan Ruipuhua Machinery Equipment Co., Ltd.
We are always providing our customers with reliable products and considerate services.
If you would like to keep touch with us directly, please go to contact us
1

Hey friend! Welcome! Got a minute to chat?