Automatic Cake Processing and Packaging Line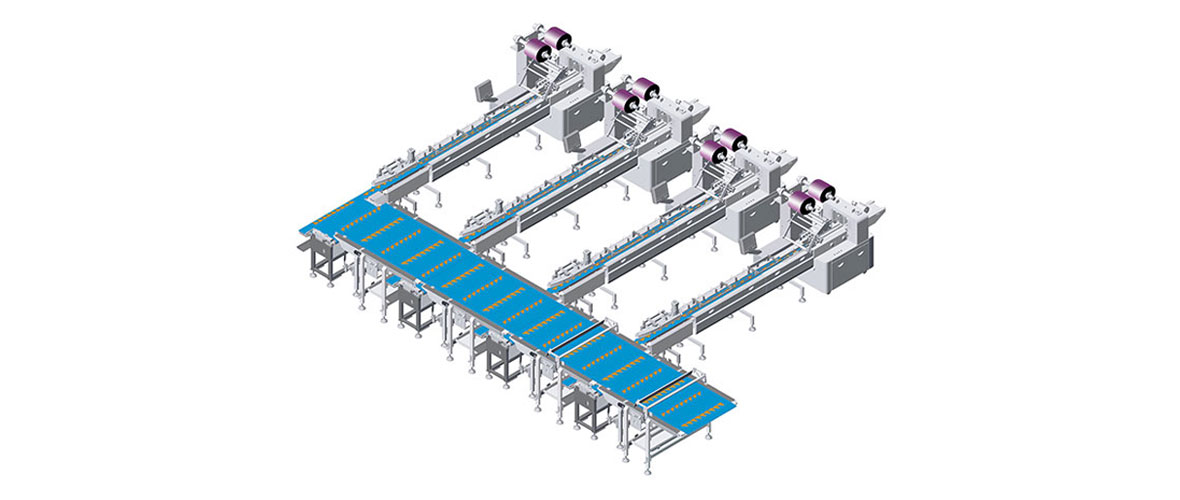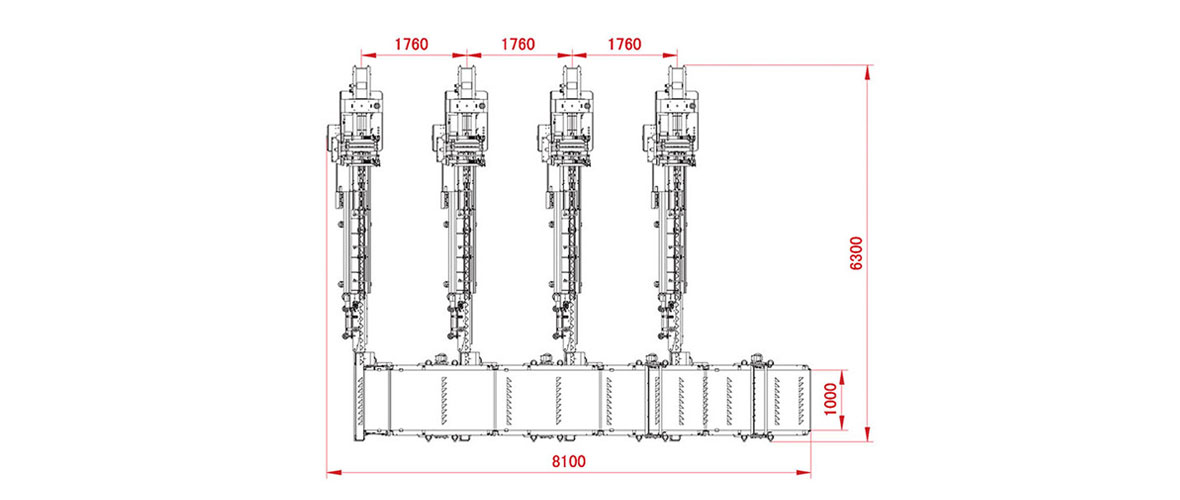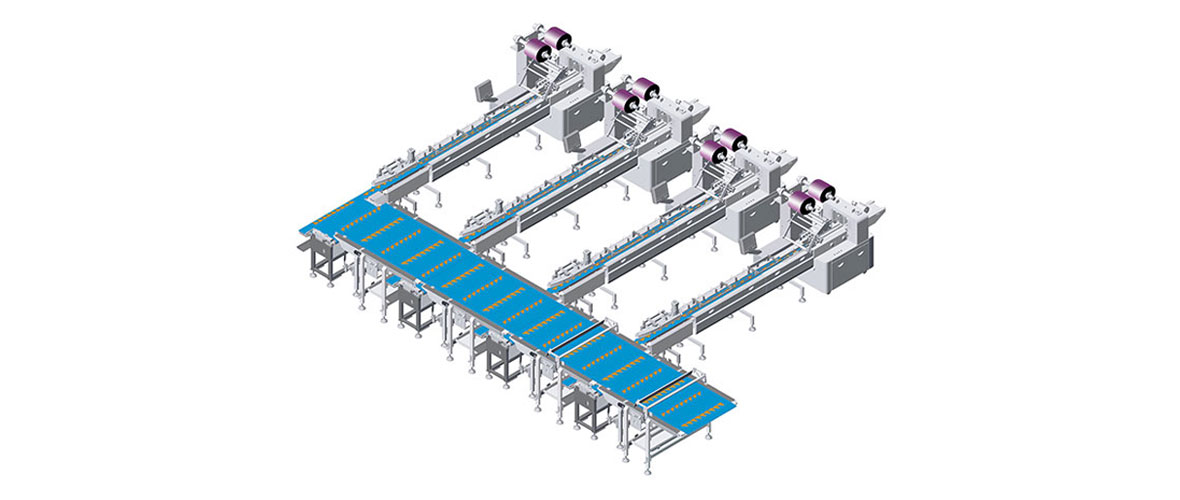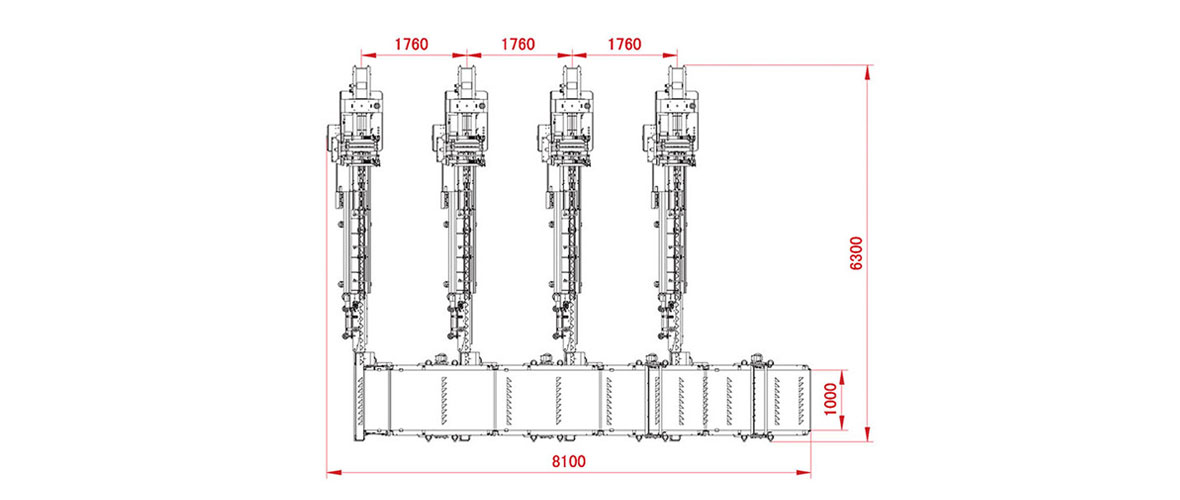 DESCRIPTION

1. Introduction of Automatic Packaging System (Named Up and Down Packaging System)

The automatic cake processing and packaging line is also named sink type feeding and packaging line (also named up and down packaging line), which is designed for soft products coming out orderly with space, like swiss rolls, layer cakes, and sandwich cakes. The packing speed is up to 150 bags per minute with air charging device or alcohol spray device.

2. Main Functions of Cake Packaging Machine

Single line packing speed can reach 80-220 bags/min.

The cake packaging machine can use different packing models according to customer product inquiries.

The automatic cake processing and packaging line consists of distance controller, sink type conveyor, auto sorting unit, and cake wrapping machine. This up and down packaging system will help cake product auto align, distance, distribute, and deliver to the sorting unit and finish packing in order to keep a continuous and orderly production with lower waste and beautiful packages. Alcohol spray and air charging are optional.

3. Advantages of Automatic Food Packaging System

(1) The cake wrapping machine has a simple structure, simple operation, convenient cleaning, and maintenance. Easy adjustment for different products or parameter settings.

(2) The control system of the cake packaging system adopts high-quality electronics, intelligent PLC, touch screen, and good HMI, which makes the operation easier and more convenient.

(3) The flow packing line is equipped with multiple belts with different speeds to arrange cakes to ensure high-speed stability and accurate positioning.

(4) The automatic cake packaging machine and system use stainless steel and Nylon baffle, which are easy to operate and clean.

(5) We will add a 90-degree turning conveyor or 180-degree turning conveyor to the packaging system according to the customers' factory layout or space.

(6) Equipped with meter detector and weight checker, which can automatically connect with the flow packaging system.

(7) Automatic cake wrapping machine equipped with auto aligning device and the automatic correcting device for the belt is optional.

(8) The packaging line can be aligned with the device and transported to the sorting unit in an orderly manner to ensure high-speed stability and accurate positioning.

4. Application of Up and Down Automatic Packaging Solution

This type of up and down automatic packaging solution is designed for swiss rolls, layer cakes, steamed cakes, soft cakes, and other regular objects, which come out in order.

5. Packaging Samples

6. Packaging System Details

(1) Distance controller

The main function of the distance controller is to pull over the product distance or keep them in rows, then it's easy for the packaging system arrangement.

(2) Sink type conveyor (also named up and down conveyor)

This sink conveyor of the packaging solution is used to deliver products into different packaging machines. The length of these parts depends on customers' production capacity or factory layout. This part only offers to those products come out in order with certain space.

(3) C belt

The C belt of the packaging system is used to change the swiss rolls or other products' direction and deliver to different packaging machines.

(4) Sorting unit

Sorting unit of packaging system introduction:

The sorting unit parts consist of 2 conveyor belts and 5-6 sensors.

The function of the sorting unit:

The main function of this sorting unit is to control the product feeding speed, located it, and connect it to the packaging machine automatically. Once it detected a product too much, the feeding speed will slow down, if lack of product, then the feeding speed will speak up soon.

Advantages of the sorting unit:

Reducing human operation and making sure the cake packaging machine running at a stable speed with fewer product wastes.
PARAMETERS

Packaging Machine Model Suggest

A. Rotary Type Packaging Machine

Machine Model

ZP-500 horizontal packaging machine

ZP-500SG packaging machine

(3 Servo controlled Double cutter)

ZP-500SG packaging machine

(3 Servo controlled Single cutter)

Packing speed

35-300 bags/min

35-300 bags/min

35-200 bags/min

Packing material

Plastic film (OPP/CPP、PT/PE、KOP/CPP、ALU-FOIL)

Bag style

Pillow type/fat pouch (3-side presealed)

Bag size (L*W*H)

85mm-230mm, 20-90mm,5-50mm

60mm- infinite, 30-150mm,5-50mm

80mm- infinite, 30-150mm,5-55mm

Film width

66-400mm

Packing Dimension (L*W*H)

4000mm*770mm*1600mm

4000mm*900mm*1600mm

Heat power

3.1kw

3.8kw

2.4kw

Motor power

0.55+0.75kw

2.5kw

Total power

5.6 kw

6.3kw

4.9kw

Overall weight

630kg

B. Box-Motion Type Packaging Machinery

No.

Items

Model

RD-BM-508S Box-motion Servo Packaging Machine

1

Bag former(mm)

(W)100-200mm(H)Max 100mm -- Big former

(W)50-100mm(H)Max 70mm --- Small former

2

Bag length

Small outer diameter 80-400mm; Large outer diameter 100-400mm

3

Film Width

100-500mm

4

Packing Speed

60-80bags/minute

5

Packing material

OPP or CPP / OPP+CPP/PET+CPP/PET+LLDPE/PET+VMCPP

6

Machine size

L4000*W1139*H1680mm

7

Total Power

3.5KW

8

Voltage

Single phase 220V 50/60HZ Air pressure:0.6MPA

9

Overall Weight

1000KG
DRAWING
FAQ

FAQ About Packaging Machinery:

Q: How many space we need for the swiss roll automatic packaging system (up and down packaging machine)?

A: Depends on the product capacity and your factory layout. But our standard 4 lines of the packaging system needs 8100mm length and 6300 width.

Q: What's the difference between the rotary type packaging machine and the box-motion type packaging machine?

A: Difference as below:

① Cutter type: The rotary type packaging machine cutter is rotary one, The box-motion packaging equipment is the box-motion type cutter.

② Machine parts: The cutter jaw unit of the box-motion type packaging equipment is imported from Taiwan.

③ Servo motor: The rotary type packaging machine is step motor, single servo motor, 2 servo motors and 3 servo motors are optional. The box-motion type packaging machine is 4 servo motors.

Q: Do we need a spare packing line?

A: Yes if you have enough space. Because it will affect your production if some machine need maintenance, it's better to have one spare packaging line.

Q: What's the belt size of automatic packaging system?

A: The standard automatic packaging system belt size is 1000mm width and height 1000mm, but it can be customized.

Q: What kind of information I need to offer if we want to buy this automatic packaging system?

A: Product size and pictures, package details, capacity, factory layout in CAD format and wafer production video.

Q: Could you help us adding the finished conveyor to deliver the wafer package into another room for carton packages?

A: Yes, of course. We are professional in designing the food packaging factory, considering the product flow, worker operation direction and passageway.

Q: Do you have a packaging solution can package 2 piece products?

A: Yes, we can package 2 pieces product in-front and back.

Q: Could we just add air charging device, nitrogen or alcohol spray device for the flow packaging machine?

A: Yes, off course. But the speed of packaging machine will be lower a little bit.
VIDEO
1

Hey friend! Welcome! Got a minute to chat?
CONTACT US


Foshan Ruipuhua Machinery Equipment Co., Ltd.
We are always providing our customers with reliable products and considerate services.